On the evening of December 16
th
, staff of Beijing Yilian Legal Aid and Research Center of labor visited the construction site to interview the workers and instructed them to learn about labor law. The staff, together with two legal professionals, visited 6 dormitories and communicated with over 20 workers to analyze their problems from legal perspective.
One of the highlights of the events was, the staff brought well-designed labor law playing cards to the workers. The playing cards combined words with cartoon, aiming at helping workers to learn labor law information during relaxation. The playing cards, as well as the handbooks, inspired workers' curiosity. They kept asking questions when going through the materials. During the two-hour training session, workers discussed questions with Yilian team, which include "why to sign a contract", "to sign a labor contract or service contract", "whom a contract shall be sign with" and "whom to go to if salaries are not distributed". The team also emphasized that workers may call Yilian's hotline when they encounter troubles concerning labor relationship and Yilian would be able to provide free legal consultation service.
The event on Monday did not go as smoothly as before. Some of the workers showed resistance and distrust towards free legal service. Nevertheless, they gradually established trust with Yilian staff with patient and positive guidance. The workers accepted the labor law materials and expressed their gratitude.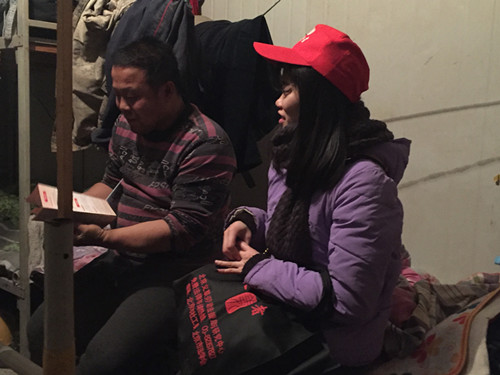 After the completion of the events, Yilian staff promised to the workers to come back with the next sessions.

Project Sponser: The United Nations Democracy Fund